Top 5...please don't mistake that for "favorite." I like to comb the Internet to see what the "experts" are saying. I so appreciate their flair and their confidence. Some of their ideas I instantly fall in love with, others they couldn't pay me to implement and others, well, I simply wouldn't have the guts...or the money to usher in the next wave when they go out of style. So, here, I simply present to you the ones I've plucked out that strike me as exquisite, interesting or even perplexing. You decide which is which for you.
I sense a few themes. One is that there is a mix of retro and contemporary and the other is a blend of cooler materials and sharp dimensions with warmer, natural fibers. Metallics and wallpaper are back along with geometric shapes, but with a new spin (and even combined in some instances).
1. Colored Stainless Steel
First it was white. Then, in the 1950s we had the pastels: Stratford Yellow, Petal Pink, Cadet Blue, etc. These were replaced by avocado and Harvest Gold in the '60s. Poppy Red appeared briefly in the '70s but then by the end of that decade the New Naturals — Coffee, Almond, Harvest Wheat, etc. Whites returned in the '80s and '90s and then there was the surge of stainless steel. Stainless steel everywhere. Introducing the next evolution, colored stainless steel. Black is shown above but if that's too dark for you, Whirlpool has a nice Sunset Bronze finish.
2. Mixed Metals
From room accents like pendants and lamps, to textiles and wallpaper, you can't miss it this year. I wasn't a big fan of the gilded metallic finishes used as mirror treatments back in the '70s but there are some nicer metallic wallpaper patterns out there than the one pictured above. I do think it's interesting that wallpaper, in general, is back. So, why fight it?
3. Wallpaper or "Fabric Wall Art"
Paper-backing textiles, from silks to damasks...love it! And see those patterns? This leads us to...
4. Geometric Shapes
Art deco geometric shapes woven into WALLPAPER and the "statement mirror" (another trend worth mentioning) AND sink. Brilliant. Tiles are also another way you'll see geometric shapes working their way into rooms, whether they be on the floor or the backsplash, they are EVERYWHERE.
5. Tech-less Living Rooms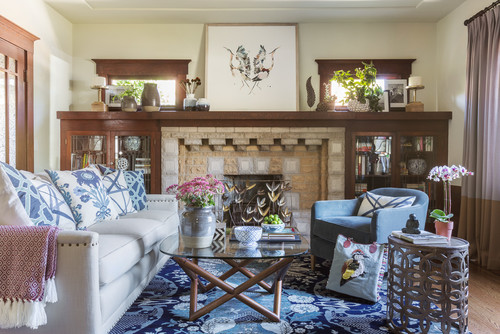 Without even realizing I was doing it, I saved the best for last. This is my very favorite trend, by far. A space where people actually connect without being plugged into the the boob tube? Sign me up! Also notice the fireplace. They're apparently "back" too but I chose not to devote a whole number to them because, well, I admit, they never really went "out" for me. The difference is now they are replacing TVs as the focal point of living rooms AND, with new advances, you can have all the ambience without the smell, pollution or hassle of traditional wood-burning fireplaces. Okay.